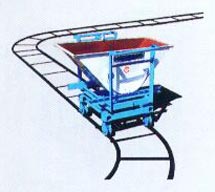 Heavy construction machinery is those which deal with carrying away the construction works with much ease. It is used to carry out heavy construction tasks. The heavy machinery includes five main types of equipment that includes control and information, implementation, power train, traction, and structure.
These heavy pieces of machinery have been used for centuries for construction purposes for ease and comfort. Mechanical advantage is utilized in the functioning of heavy equipment. Multiplication takes place between the input force and the exerted force. In construction, the placement of concrete slabs is carried away by Multi Rider. Some coveted companies are efficient Multi Rider Exporter. They contribute to the advancement of the construction industry.

Different types of heavy machinery used for construction
The heavy machinery makes construction procedure easy. These are beneficial for workers, manufacturers, importers, and exporters. This machinery makes their work easy and also saves time. A large amount of work can be performed within less time. Several types of heavy machinery ease the construction process. They are the following:-

? Backhoe: Backhoe is one of the most important pieces of equipment that cannot go without saying. It is widely used in the construction industry for various purposes. It offers the provision of the hoe arrangement. This arrangement makes the procedure of loading easier than usual. The loading bucket is put forward initially. It is widely used for the excavation of trenches.

? Bulldozers: Well, talking about bulldozers, they contribute hugely to the construction sphere. It is a highly sought-out piece of equipment, and almost everyone has heard of it. These are also effective in the excavation of the soil. IT plays a great role in the removal of the topsoil up to a specific density. They remove weak soil and engage themselves in lifting the status of the soil.

? Excavators: The name itself suggests that it is effective in soil excavation. It is one of the most vital machinery that the construction industry needs. These mainly focus on the excavation of soil but their secondary functions include dragging, lifting, tree cutting and shaping, etc. Arm digging can also be done using excavators.

? Trenchers: This equipment is mainly responsible for carrying away trench from the surface of the soil. In wheeled trenchers, there is a metal wheel associated with a digging tooth. Trenchers are often useful for several other purposes, for example, cable laying, pipeline laying, drainage issues, etc. But to be honest, wheeled trenchers are the most preferred equipment used for soil excavation.

? Loaders: The name of this equipment makes its functions pretty obvious. Loaders are used in the loading process of construction materials onto trucks, lorries, etc. There are wheeled loaders as well that serve greatly in the construction site. These are marked with the presence of a sized bucket used for holding the materials.

Thus, to conclude, it has to be stated that the construction industry would have shown massive signs of decline without the presence of heavy machinery. This machinery makes the work easier within a short time. They come in various categories to serve a varied range of purposes.
This entry was posted on February, 04, 2021 at 15 : 08 pm and is filed under Multi Rider. You can follow any responses to this entry through the RSS 2.0 feed. You can leave a response from your own site.